About Thriveworks
Our Mission and Our Team
Our Mission at Thriveworks is to help people live happy and successful lives.
We connect individuals with exceptional providers who help their clients manage challenges like depression, anxiety, relationship issues, major life transitions, and others. Find a Thriveworks counselor near you or even book online here.
Our 5 Core Values
01. Adaptolution: We're forever growing professionally and personally, and we thrive in a world that's always changing.
02. CurVe Breaker: Clinically, we provide next-level care for our clients. Administratively, we raise the bar for the industry and ourselves.
03. Do-Gooder: We live with integrity, practice honesty, and seek to do good.
04. Make it Happen: Clinically, we find creative ways to meet the unique needs of our clients. Administratively, despite challenges we achieve our goals.
05. Teamworks: We're a professional team, working together to provide the best experiences and outcomes for our clients.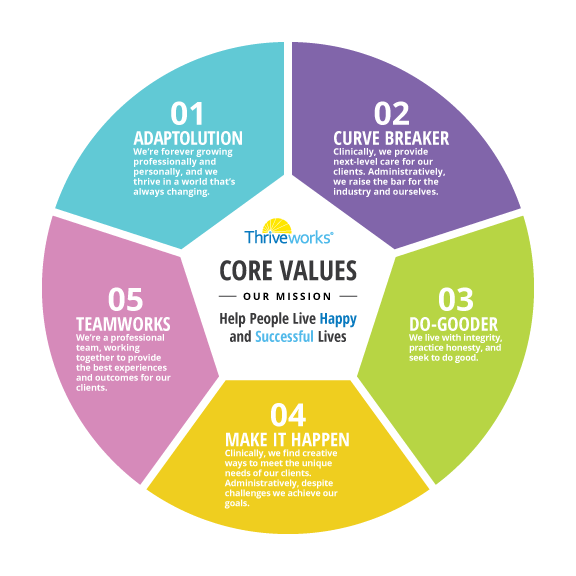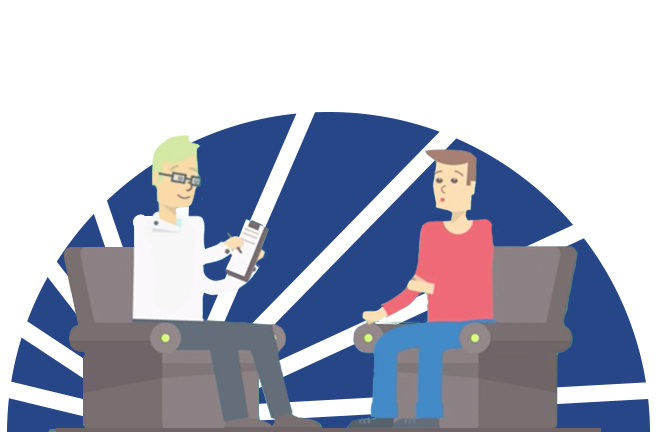 Getting counseling shouldn't be a hassle.
At Thriveworks it's never been easier.
Meet the Awesome Thriveworks Team!
Team members share why they love working at Thriveworks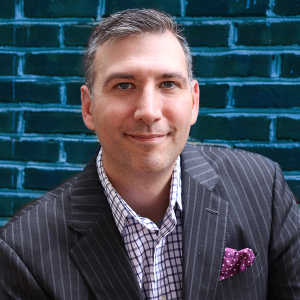 AJ Centore PhD, Founder and CEO
AJ (Anthony) Centore Ph.D. is Founder and CEO at Thriveworks, a counseling practice focused on premium client care with 150+ locations across the USA. He is a multistate Licensed Professional Counselor, Advisory Committee Member for the American Counseling Association Foundation, former Private Practice Consultant for the American Counseling Association and Columnist for Counseling Today magazine where he published over 95 monthly columns. AJ is Author of several books and Co-author of "Leaving Depression Behind: An Interactive, Choose Your Path Book." AJ has been quoted in media outlets including The Boston Globe, Chicago Tribune, and CBS Sunday Morning.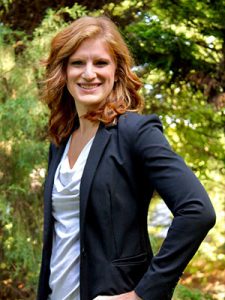 Charity Minerva, Vice President of Payor Relations & Associate General Counsel
As Vice President of Payor Relations, Charity is responsible for managing relationships with national, regional, and local payors across the United States by ensuring appropriate and effective communication, contract compliance, issue resolution, and competitive reimbursement plans. Charity collaborates with multiple departments to certify the smooth operation and administration of payor agreements. Charity is passionate about developing sustainable and mutually-beneficial partnerships between Thriveworks and payors so that Thriveworks can help as many people as possible live happy and successful lives. Charity is a licensed attorney and resides in Virginia with her husband and two children.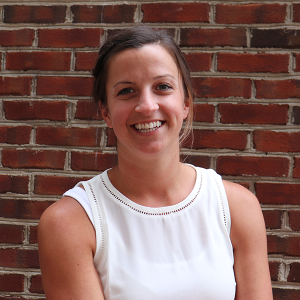 Dagen Weaver, Chief Human Resource Officer
As the Chief Human Resource Officer at Thriveworks, Dagen is responsible for all areas of HR with a focus on the implementation of processes and policies that keep the business running smoothly. From entry level position workflows, to top-level strategic business operations, Dagen understands in great detail the workload and process for each support position, supervisors, and also executive team members. These insights position Dagen as the go-to for identifying, creating and implementing new initiatives. Dagen is also responsible for nurturing Thriveworks' corporate culture which balances the need for excellence with a fun, casual environment. Dagen holds a B.S. in Communications with a concentration in Public Relations from Bridgewater College.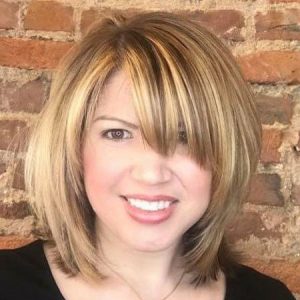 Heidi Faust LCSW, Chief Compliance Officer
Heidi is responsible for clinical compliance with a focus on the implementation and auditing of policies and procedures in order to ensure that Thriveworks is a curve breaker in our success in complying with relevant ethical, regulatory, safety, and billing guidelines. Heidi joined Thriveworks in 2012 and has served as a Clinician, Clinic Manager, Regional Clinic Director, Executive Clinic Director, and Franchise Owner of locations in Media, PA, and Wilmington, DE. Due to her extensive experience in the field and with Thriveworks, Heidi both understands the processes for each clinical team member and also the importance of coordination between departments in order to achieve company success. Heidi holds a B.A. in Psychology from George Mason University, a Master of Social Work from Hunter College in New York City, and she is a Licensed Clinical Social Worker in Pennsylvania.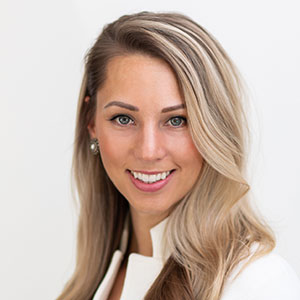 Joy Decker Guadagnini, Chief Financial Officer
Joy is responsible for the overall financial strategy at Thriveworks and has never met a spreadsheet she didn't like. With a background in software accounting, Joy brings a fresh perspective to traditional accounting and financial reporting. Speaking of traditional accounting, Joy is a CPA and graduated summa cum laude from Oral Roberts University.
When she isn't hunting through the financials, you'll find Joy exploring downtown Annapolis with her family, or in an antique store, hunting for treasures.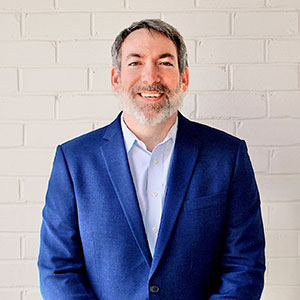 Marc Brooks, Chief Legal Officer & VP of Business Development
In his role as Chief Legal Officer, Marc oversees and manages all aspects of Thriveworks' legal affairs, including litigation, corporate matters, regulatory compliance and risk management. Marc's secondary role is Vice President of Business Development. In this position, Marc is responsible for locating future Thriveworks clinics, securing real estate and getting the doors open to see new clients! Prior to joining Thriveworks, Marc served as Senior Director and Associate General Counsel at IQVIA, a leading global provider of advanced analytics, technology solutions, and contract research services to the life sciences industry. In this role, he supported regulatory, contracting, mergers & acquisitions, and acted as lead attorney in some of IQVIA's most strategic customer transactions. Marc holds a B.B.A. from Campbell University and a J.D. with a Health Law certificate from The University of Pittsburgh School of Law.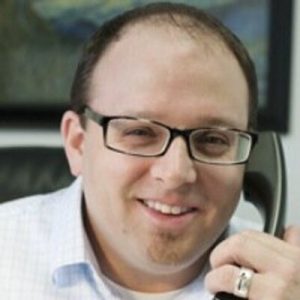 Michael Reffner, Chief Franchise Officer
In his role as Chief Franchise Officer, Michael is responsible for supporting the network of franchise owners across the country. This includes providing the initial training, leading continuous education efforts as well as being a trusted source for advice and information among the franchisees. Michael is also a franchise owner with locations in South Carolina. A graduate of Liberty University, Michael earned additional degrees from Liberty Baptist Theological Seminary (MAR, Religion) and Lynchburg College (M.Ed. Coursework, Counseling) before returning to Liberty to earn Ed.S., Educational Leadership.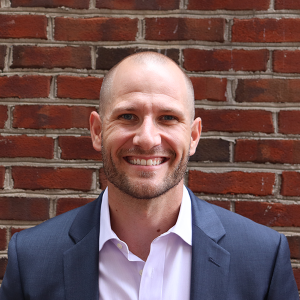 Ryan Culkin LPC, Chief Counseling Officer
As Chief Counseling Officer, Ryan Culkin oversees the logistics and operations of all company clinics, telehealth, and clinicians nationwide. He brings over a decade of clinical experience and unique business perspective to Thriveworks. Ryan is passionate about equipping clinicians with the skills needed to be successful, to grow, and to thrive in their role as the field continues to modernize and evolve.  Ryan is responsible for supporting the clinics through strategic planning, operational analysis, recruitment, and training of best practices for improved clinician success. Ryan has a Master's in Professional Counseling and currently resides in Central Virginia with his wife and son.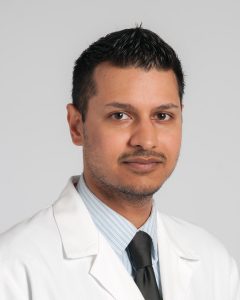 Shaheen E Lakhan MD, Medical Director
Dr. Shaheen E Lakhan is a physician, scientist, and educator, board-certified in neurology and pain medicine with clinical training from the Cleveland Clinic and Massachusetts General Hospital.
Formerly, Dr. Lakhan was on the medical staff of leading medical centers (City of Hope; Cambridge Health Alliance), founding neurology department chair and assistant dean of an emerging medical school (California University of Science and Medicine), chair of an active institutional review board (Arrowhead Regional Medical Center), and chief of pain management at a multi-hospital academic healthcare system (Virginia Tech Carilion).
In addition to exemplary clinical service, Dr. Lakhan has an extensive research, educational, and philanthropic portfolio. He has over 100 peer-reviewed journal publications, books, and book chapters; was appointed by California Gov. Brown and Virginia Gov. Northam to prestigious boards; and bestowed the Harvard Medical School Dean's Community Service Award for his founding of the Global Neuroscience Initiative Foundation. He was also awarded the President's Call to Service Award for Lifetime Achievement by George W. Bush and The U.S. Congressional Award Gold Medal. In 2017, he was recognized by his peers and inducted as Fellow of the American Academy of Neurology, the Academy's highest designation.
It's not easy, but we're extremely selective about the counselors, psychologists, and coaches that join our practice. Experience a provider with skill and passion for helping clients make meaningful advances in their lives, relationships, careers, and happiness.